This week, Justine Greening, Education Secretary, looks set to bring about the return of the Grammar School. This idea was originally floated in the press following a photograph of a document carried by an unnamed official walking into Downing Street. Generally this kind of incident happens relatively regularly; civil servants, political assistants and MPs themselves seem to forget that the large scrum of photographers lined up opposite the black door to number 10 often carry lenses strong enough to see through a polly-pocket folder.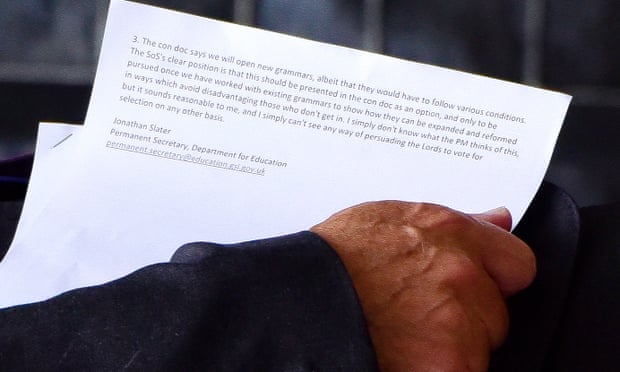 Analysing the photo, it appears to me that whoever the person carrying this document is, they certainly seem to be trying to make the document far more visible to an onlooking photo journalist. Sound familiar?
My favourite political comedy, The Thick of It, has already satirised this exact situation. Series 4, Episode 2; Leader of the Opposition Nicola Murray is photographed holding notes from a meeting, outlining a policy that she hoped would bring benefit for 'quiet bat people'. In the programme, this incident is all a ploy by the illustrious Malcolm Tucker to take Nicola Murray down from the inside, by alerting the press to her apparent stupidity at the helm of her party.
The plot by Malcolm backfires; on closer inspection by an inquiry launched following a political disaster, the photo incriminates Malcolm in having illegal acquired an NHS number.
Anyway, back to the real world. Grammar schools are a massively emotive issue, and there are arguments across the political spectrum both for and against them. Some argue they improve social mobility for pupils from right across communities. Others argue that they serve no purpose and are a relic of the past. It's not limited to Tories voting one way, Labour voting the other. Imagine if someone working the Department for Education wasn't too keen on the idea? A peeved civil servant? A grumpy political assistant? Or even a rogue MP?
One shuffled pile of paperwork to be taken to the PM's office and suddenly an idea not yet fit for public consumption has been shouted out from the hills. I don't think Justine Greening or Theresa May (definitely not Defence Secretary Michael Fallon) thought Grammar Schools would be on their to do list, but someone decided otherwise. Now Justine Greening stands before parliament, defending the government's previously unknown plans to bring Grammar Schools back from the dead. Though despite unnamed attempts to scupper Grammar School plans, I don't think this will develop into the 'Quiet Bat People' moment a conspirator might have hoped for.
It's my birthday, so be nice!